pictures of the healthy picnic lunch she put together along with the weight of all the items which she wanted to show Mrs Mouland. Evie has also made a volcano which we made erupt using baking soda, washing up liquid, food colouring and vinegar!
She has also learnt to ride her bike this week and has written a book review.
Thank you for sending the writing sheets to us and the writing levels. It makes it easier for us to ease her into writing and to know the sort of level she should be working towards.
Ivy was keen to share these pictures of her writing using said sheets (not necessarily for the website). She has made some progress with this. She is into gardening, getting quite knowledgeable so was keen on the plant task.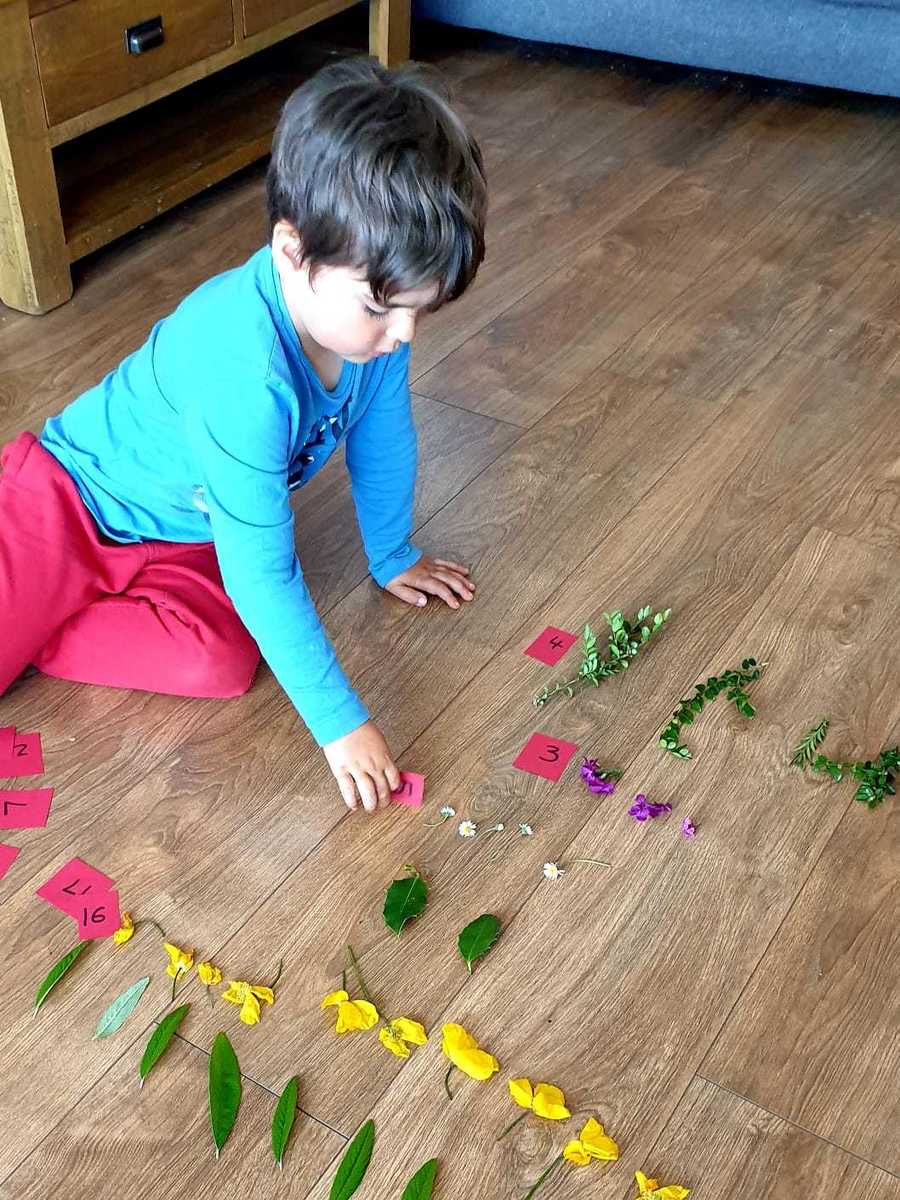 Hello,
Just a few pictures from this week.. on Friday we went on a little 'science and nature expedition' to Allerthorpe woods and collected lots of interesting items, spotted different insects and explored different habitats. Afterwards we draw, painted, stamped and wrote about our little adventure!
James and Thomas have done a wild plant hunt in woods near their house.
We have had a rainbow day at school today to celebrate all our key workers and Captain Tom's 100th birthday! We dressed up in bright colours, walked round the playground 100 times and had a super party lunch with a beautiful rainbow cake.
Millie has been doing lots of different activates before and after Easter. Doing book reviews and sharing them with the Library! enjoying science lessons with Maddie and Gregg as well as losing 2 teeth!!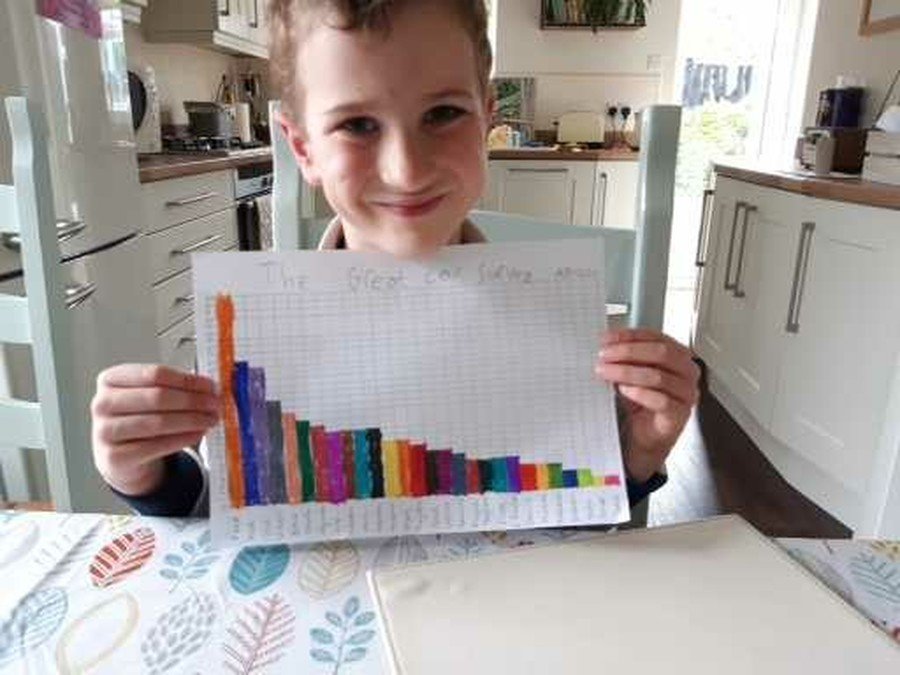 Here's a photo of Oscar showing the results of "the great car survey April 2020". We walked round the streets of Pocklington for over an hour surveying the makes of cars and then created a bar chart. The top 3 were Ford (30), Audi (21) and VW (20).
Edie has done lots of reading, enjoying her RWI with Rosie. Edie especially likes teaching her well behaved class!! She has also been out walking and riding her bike.
Lola has been busy doing lots of work at home.
Harry and James have been very busy. They wanted to learn about the planets. Also they joined in with Joe Wicks' fancy dress Friday.
We have also been watching video's about Grace Darling. Harry has draw a picture of the stormy night.
Gosh! Mila and Gene you have both kept very busy at home with all the things you have done. Well done both of you, I love your smiley faces.
Alise came to school today with a beautiful rainbow plait in her hair.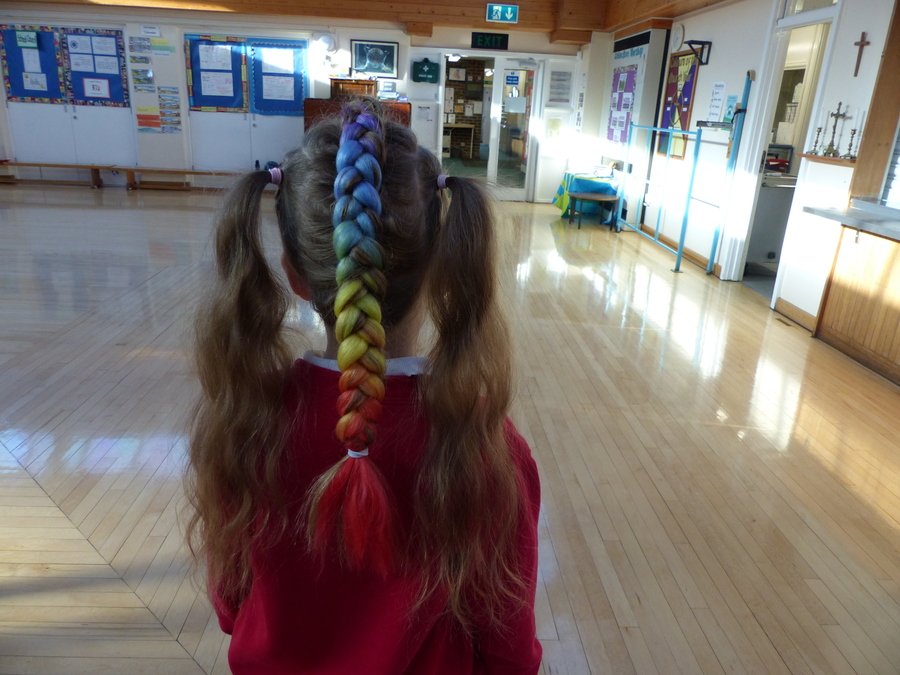 Sofija's sunflower seed has started to grow!
Wow Lena as made a super ginger bread man!! beautifully decorated also.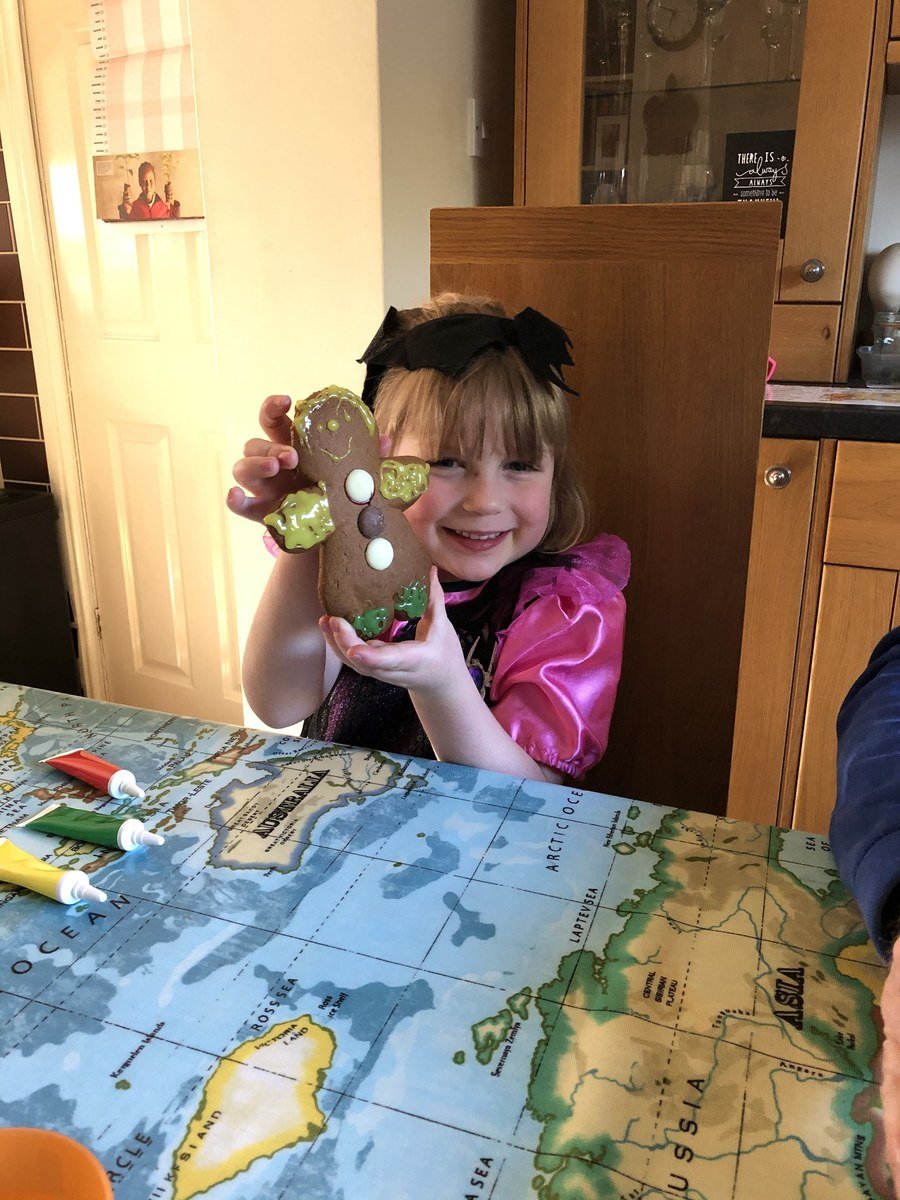 We went for a walk , then ran some races.
Megan has been busy with the jig-saws.
We also watched a male pheasant on our field.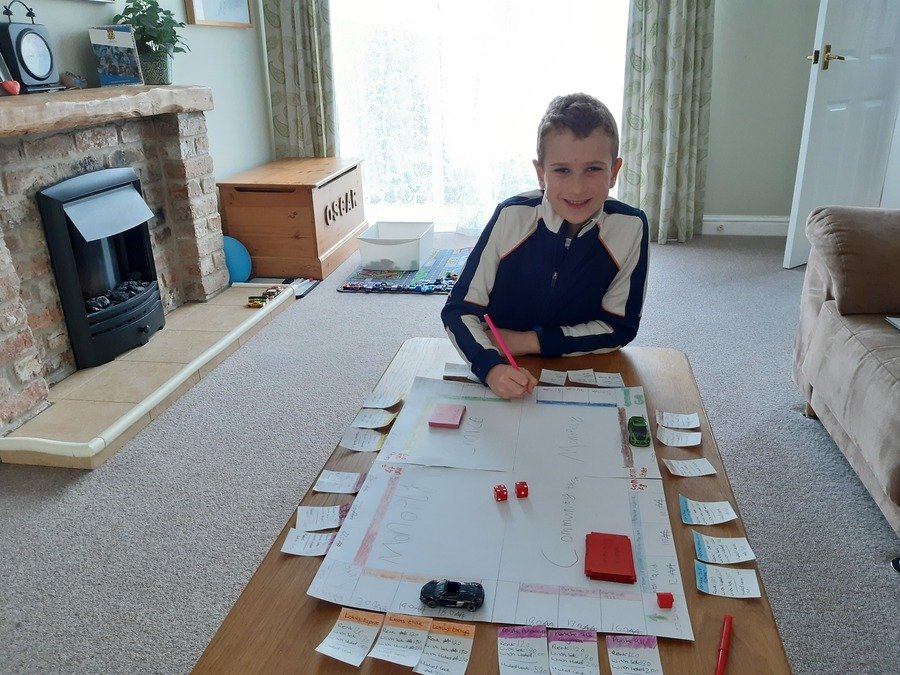 Jack has been very busy with phonics, maths, planting seeds and fun activities out doors.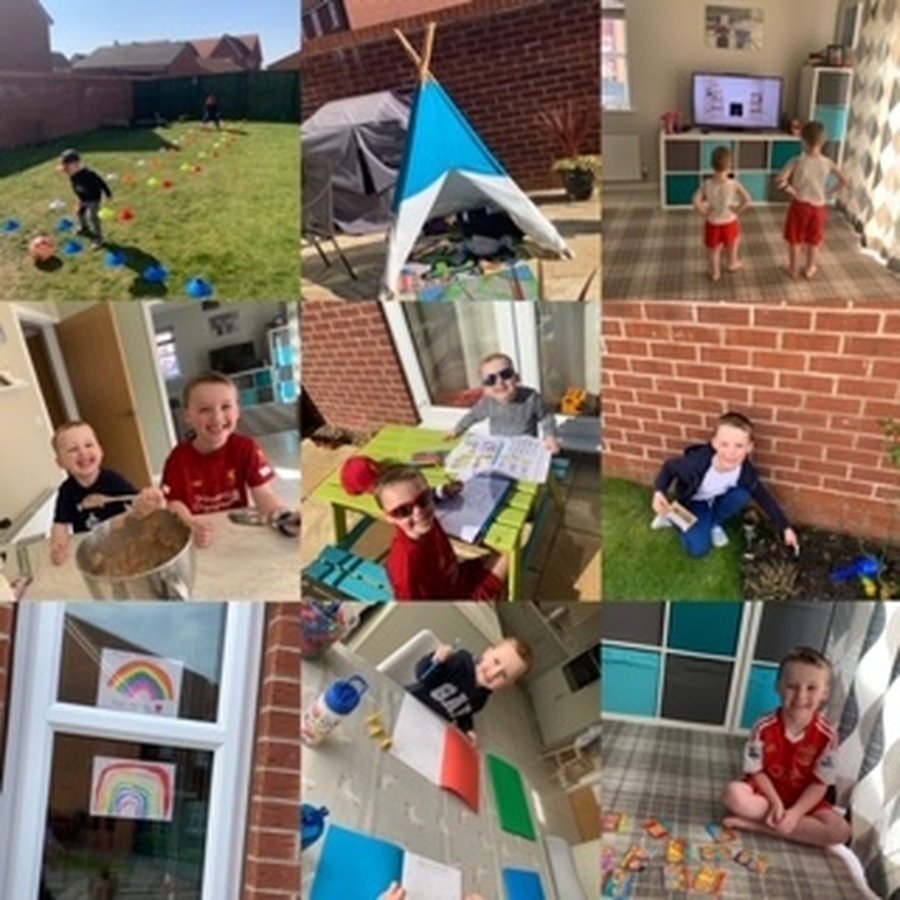 Lilie and Niall writing about books.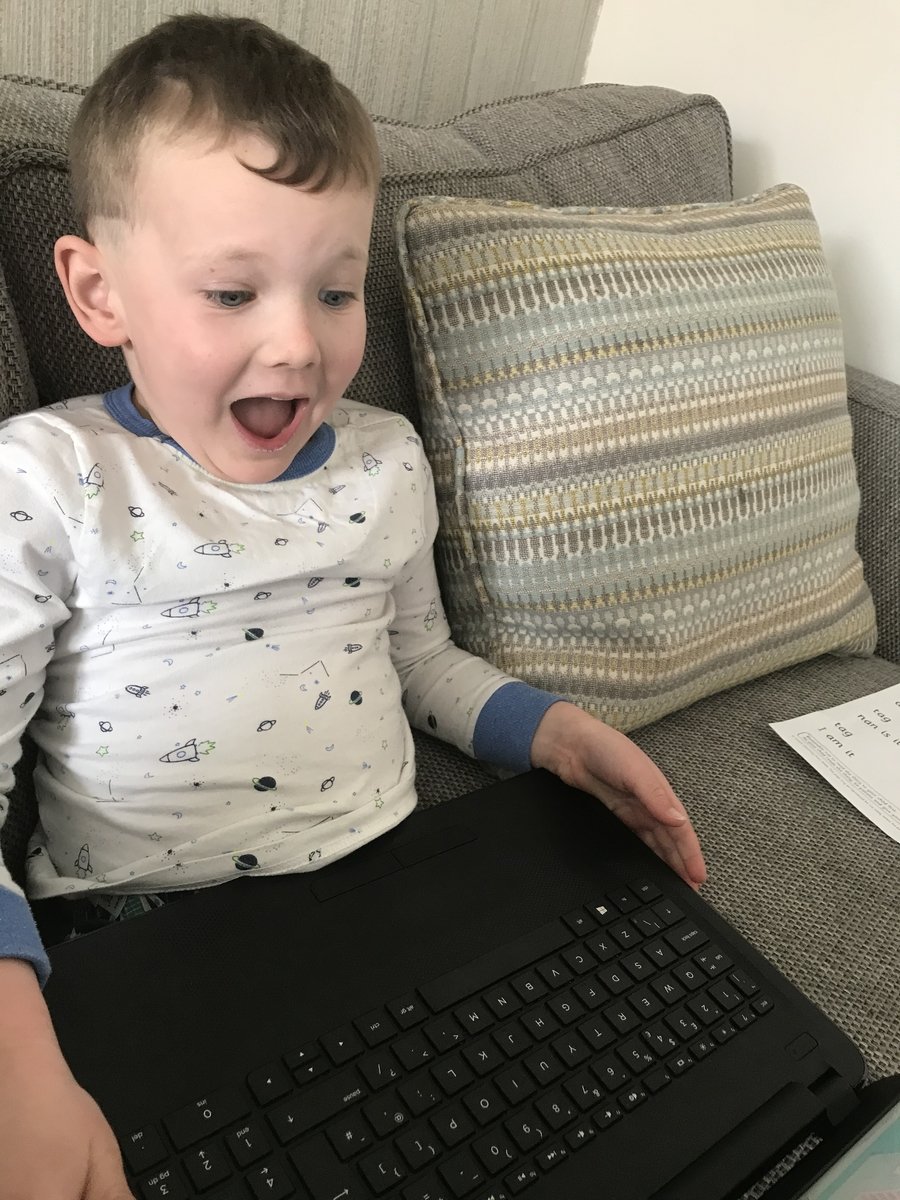 Evie has had a busy week exercising with Jo Wicks, painting, learning about fractions and researching facts about Mount Everest. Wow Evie what a busy week !!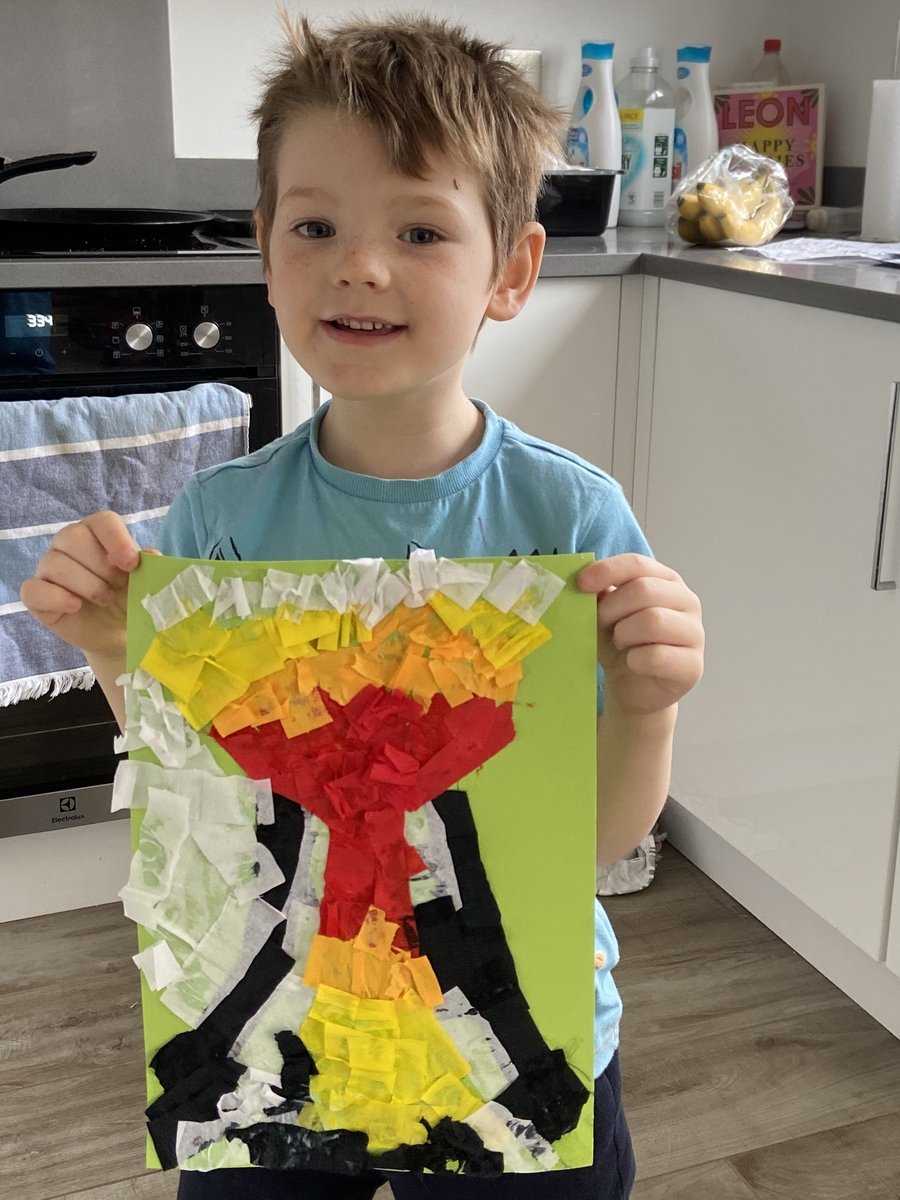 Stanley has been trying to make 'slime' as well as baking lemon cookies!
Stanley has also had fun making puppets and a puppet theatre.
Millie's has been thoroughly enjoying the class zoom sessions.
She has drawn a lovely family portrait.
She's been book-mad counting all the books on her shelves and reading to her sister every day.
She's been learning about dinosaurs and digging for fossils - a Dino tooth, bone and poop! (Thank you national geographic!).
Stanley made a dinosaur playground in arts and crafts and chocolate snail cakes in baking!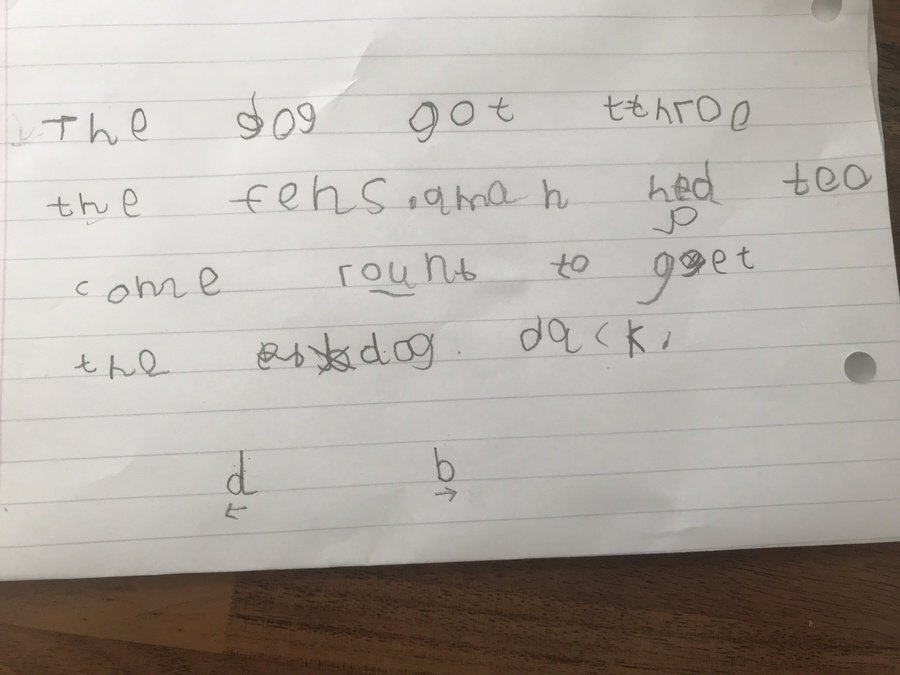 Gene has done a book review of one of his favourite books and did some fun pattern rubbings from around the house and garden
-We did a fun science experiment, looked after our doggy's poorly paw as part of caring for animals and Mila made Ferrero Rocher truffles!
James went into his street to count the colours of cars and recorded his findings on a bar chart. He has also been learning about World War Two.
We just wanted to share a few pictures of the things that Ruby has been getting up to whilst in lock down.
Ruby planted around 6 sunflower seeds and she has been watering them and measuring them every day. At the weekend Ruby was able to plant 4 of her sunflowers into the garden. ( she can't wait for them to grow, she predicts they will grow taller than her).
Ruby has also been enjoying her maths work, Especially times tables. she is also really enjoying watching the videos Mrs Mathews and Miss Finlay have made
for them to help learn their time tables.
We hope everyone is ok. Stay safe x
Last week we learnt about Henri Matisse and had a day inspired by him! We also learnt about plants and their life cycles!
Well done Austin.
Paige is patiently waiting for her caterpillars to hatch out!
Paige is also creating her super villain Doctor Goblin!
Hi,
Evie wanted to share some of the things she has been doing.
She made a unicorn from a toilet roll....
She made a picture to show our neighbours (at a social distance!) when we clap for carers on a Thursday.....
We a made a game to help learn times tables. I shouted out the times table and Evie had to find the answer and suck it up with a straw against the clock!
She also drew a flower from our garden and wrote some describing words about it, this was an activity that Miss Mathews had asked the class to do.....
Hello!
We have enjoyed seeing photos of other children enjoying their learning at home so thought we'd send some of Lucy to add to them. Lucy has been working very hard on her school work and has been enjoying using her toys to help with her school tasks doing lots of reading and writing tasks, the online phonics, maths etc as well as having lots of fun baking, gardening and creating all sorts of things (especially a mess!) We have been using purple mash and have followed instructions to save and send but are not sure if it is going through. She has mostly been doing the maths games and is doing really well, but we can't tell if this registers or not. Please be assured that she is doing lots of different things and is happy, but also missing school!
Amelia is learning about our body and enjoying baking a cake.
Ivy is taking a break on Purple Mash, after a day working on the stock exchange!!!
Paige has been drawing a map of the seaside.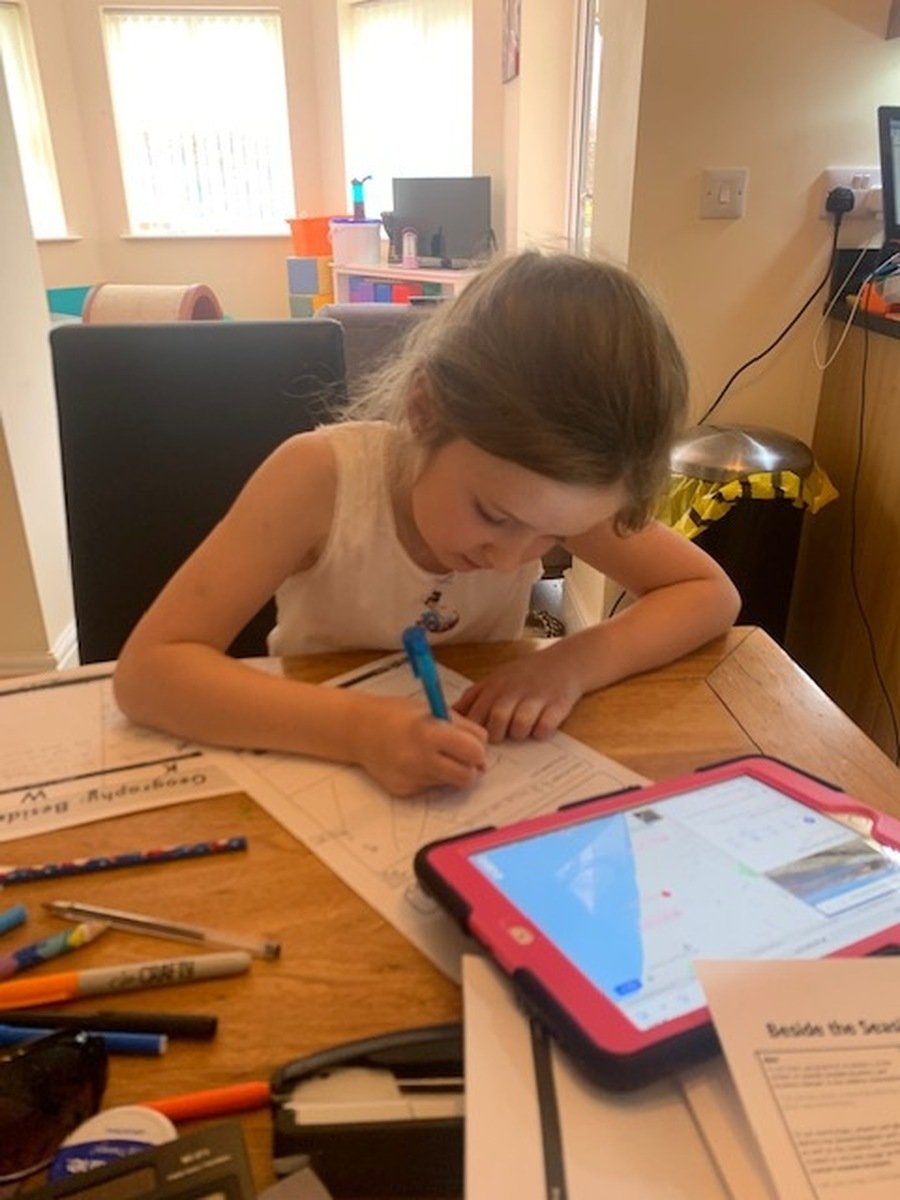 I have been having fun with my mummy at home and have done some work. I'm trying to get better handwriting. So far we have learnt about space, flowers and money. I can spell all my red words from my hairy fairy book and also the common exception words. I practice reading every night with my Nannie on Face Time.
I loved going star gazing with mummy at 10pm!!! We saw Venus and satellites.
Ryder has made a fantastic rainbow using sweets and water he has also helped his daddy sand down a gate.
I love the painted stones you have done Andrew they look amazing! The rainbows and the egg box plane are good also.
Well done!
James has been very busy making cakes and playing outside.
Your cakes look amazing James
Jack has been busy this week. He has been crafting with shapes and glue. Made a tv and remote from cardboard and has been telling us the news. Learning the alphabet with a snake exactly like the one in the school playground and went on a trolley dash in his playroom to sort all the things in order from lightest to heaviest and smallest to largest.
We hope you are all ok and keeping safe and well at school.
Megan celebrated her birthday while at school!
Tom has been keeping busy doing lots of fun activities learning, baking/cooking, exercising. Well done Tom!
James and his brother have named their class Sharks Class!
James is painting his pot ready to plant his strawberries, he has also been finding out about plants and seeds. Plus working out with Jo Wicks every morning!
Lexi has been busy making a Rainbow picture 'Stay Safe Be Happy' and Slime but she's not sure the slime as worked out as well!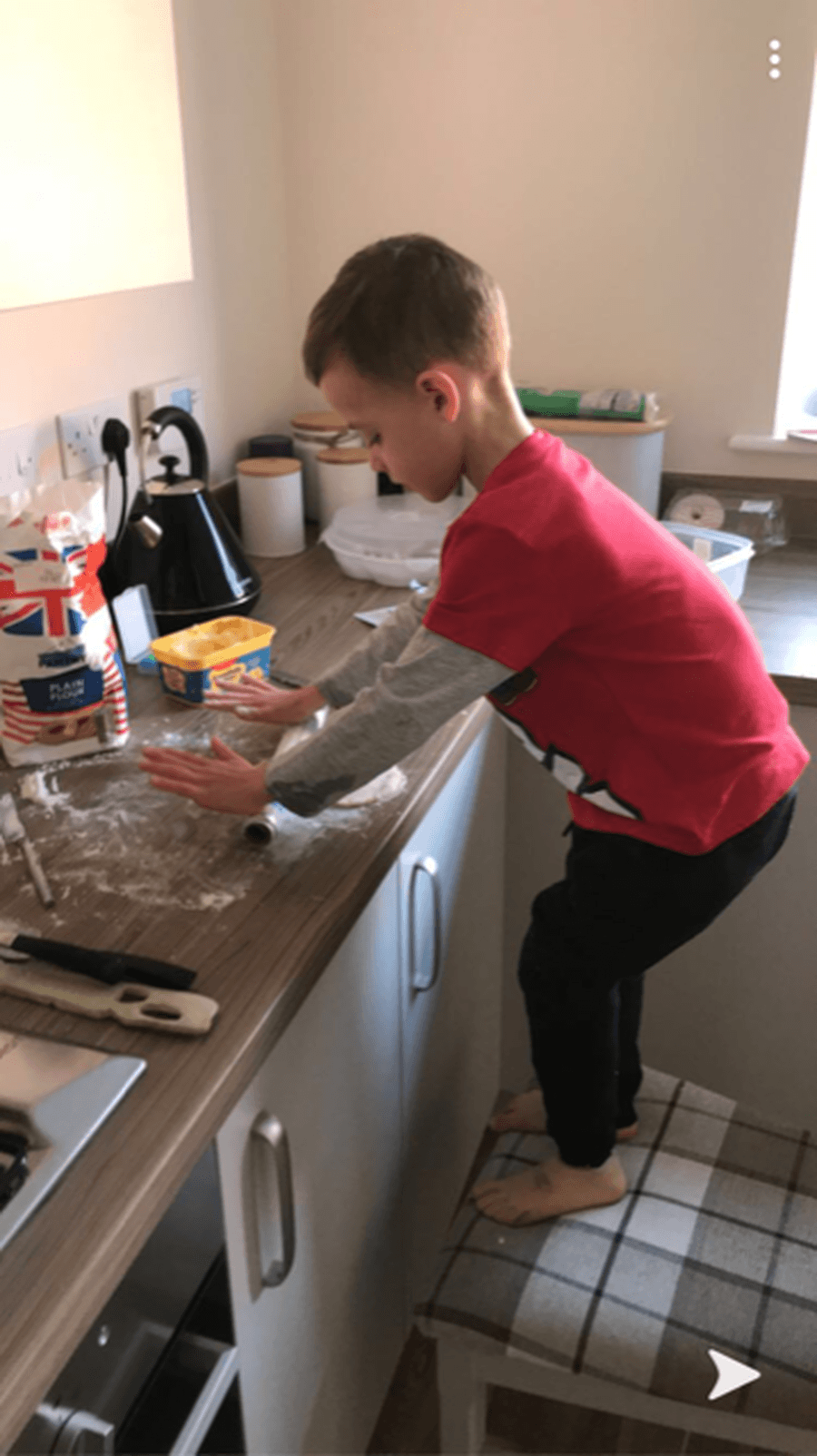 Amelie blowing bubbles and baking.
Sam enjoyed Oxford Owl doing Swap, Double or Drop!