Supporting Pupils Emotional Wellbeing
Our school vision is 'happy children loving learning'. We are passionate about ensuring good emotional wellbeing for all the children at our school to enable them to get the most out of the learning opportunities we offer.
How do we support emotional wellbeing in children at the school?
The school day is carefully structured to support good emotional wellbeing, by being divided up into times for learning, times for unstructured play, times for small group work, and times where we all get together for collective worship.
We celebrate good work and behaviour in our pupils in a wide range of different ways. We ensure all pupils know what the school values and rules are through collective worship and teaching sessions. Good work and behaviour is encouraged through stickers, certificates, displays in school, star of the week in each class, and certificates from governors for positive behaviour.
ELSA
We are fortunate to have a qualified Emotional Literacy Support Assistant ('ELSA') at Pocklington Infants - Mrs Saltmer, who offers additional support for those children that need it.
To find out more about Emotional Literacy Support Assistance at our school (ELSA)
Young Minds top ten tips poster
Mental Health Services
Information on Child and adolescent mental health services for Hull and East Yorkshire can be found here. However, if you have a Pocklington GP CAMHS are provided by Lime Trees in York.
How do we teach pupils to respond to conflict with another child?
We use the 'debug' approach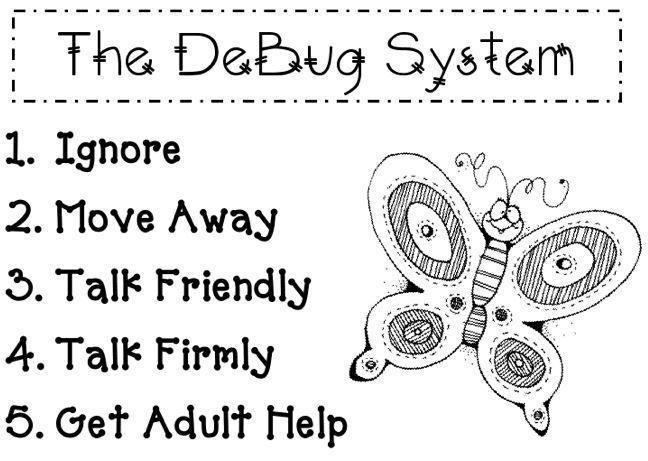 To find out more about our behaviour policy.
How can parents/guardians/carers support emotional wellbeing of the children at our school?
Raising children isn't always easy. It can be amazing and rewarding watching your child grow, but it can also be really hard work.
There may be times when children need additional emotional support such as when first starting or changing school, changing year group, or changes at home such as new siblings, parent separation or ill health in the family. If you are finding your child's behaviour challenging, talk to your child gently about their feelings and behaviour and ask your child what they think would help. If you can, talk to your child's other parents or carers about your worries when your child is not around to try to come up with an approach you will all use to support your child.
We have brought together a range of resources from 'Young Minds', a leading UK charity for children and young people to help parents with this. We also offer free 10-week courses to support parents.
If you think your child is needing some additional support or seems anxious about attending school, or there has been a change of circumstances at home, let us know about it by speaking to your class teacher or contacting us.
If you have had a change in financial circumstances you may be eligible for Pupil Premium, a fund to help schools support children from low income backgrounds.
Some children have special educational needs, to find out more about this Click here
Young minds Click here
Parents survival guide Click here
Helping your child Click here
Looking after yourself Click here
School anxiety Click here
School refusal Click here
Supporting your child during divorce or separation Click here
Top tips for supporting your child during a time of change or difficulty Click here